Product Summary
The proFPGA product family is a complete, scalable, and modular multi FPGA Prototyping solution, which fulfils highest needs in the area of FPGA based Prototyping. Because of its modular and scalable system architecture, the user has maximum flexibility and reusability.
Part of this modular and flexible system concept is the proFPGA Adapter Board, which provides a method of interconnecting the proFPGA prototyping systems with the ARM Juno Development Platform.

The Juno ARM Development Platform is a software development platform for ARMv8-A. It includes the Juno Versatile Express board and an ARMv8-A reference software port available through Linaro. The Juno hardware provides software developers with an open, vendor-neutral ARMv8 development platform with ARM Cortex®-A57 and Cortex-A53 MPCore for ARMv8-A big.LITTLE , ARM Mali-T624 GPU for 3D Graphics Acceleration and GP-GPU compute, 4 lane Gen 2.0 PCI-Express and SoC architecture, aligned with Level 1 (Server) Base System Architecture. The platform is a one-stop shopping product for anyone needing to test, prototype, or design a 64-bit product for the ARM ecosystem.

By combining these two powerful platforms in one system, the user can benefit from all the features and tools of the Juno Platform together with the scalable capacity offered by the proFPGA prototyping platform. This way the user has maximum flexibility to design and verify either IP, sub-systems or even complete ARM based SoC designs.

This solution is supported by all ARM Juno variants and an example Application Note AN499 is available as a starting point for an FPGA design implementation. A short video showing the mechanical assembly instructions is available here.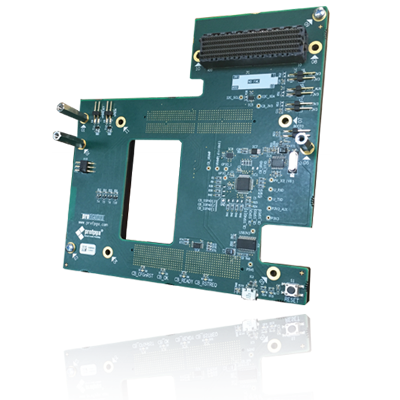 proFPGA Adapter Board for Juno ARM Development Platform

Description

connects Juno ARM Development platform with proFPGA system

Documentation

Application Note AN499, assembly video

Compatibility

proFPGA uno V7, duo V7, quad V7, uno UltraScale, duo UltraScale and quad UltraScale Systems

Requirements

proFPGA system, Juno ARM Development Platform

Order code

PROF-A-I-EAB